Your business card is crap!! That's right, and I have the cure. Get ahead of the game by reading this week's newsletter, which is packed with insights and tips for marketing in 2023 and beyond.
We're mostly about marketing this week, but keep scrolling for AI news, big wave energy, a must read climate tech deck, plus some interesting links for builders. I've got some wacky AI predictions about where we're headed with personalization, but they're hardly baked yet. I'd love to hear your thoughts on this.
So, let's level up your marketing chops, get in the know, and start learning by doing!
---
Marketing Technology Landscape 2022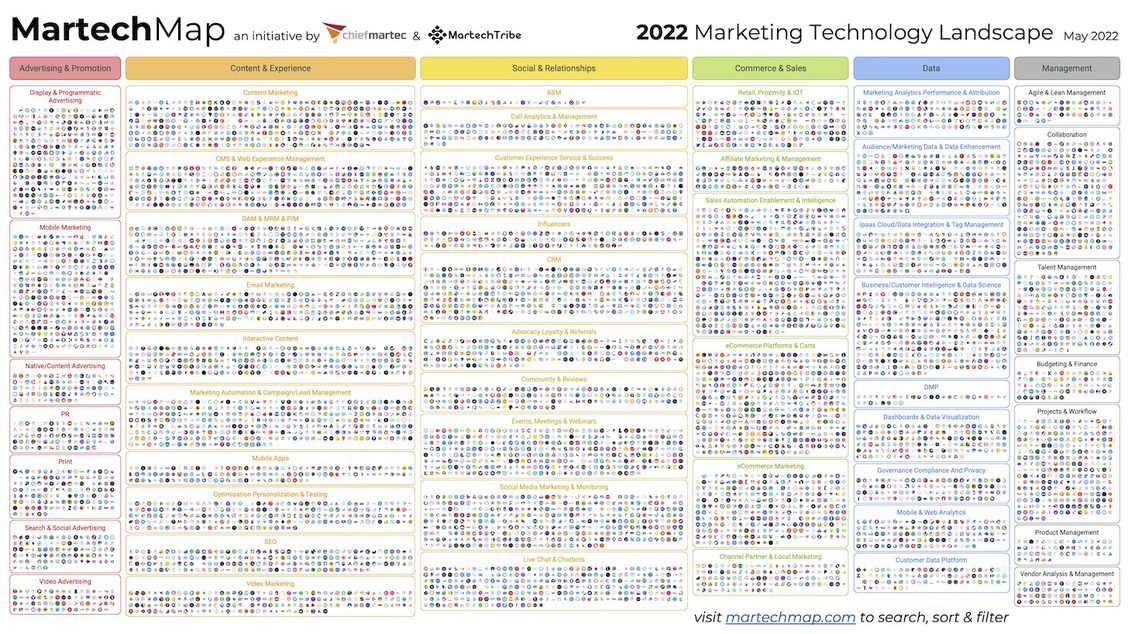 Do you remember those "Marketing Technology Landscape" images that surfaced around 2011? The first few years reported 150, and then 350 companies. Today, it's back with a whopping 9,932 solutions.
MartechTribe have launched a new interactive site at martechmap.com, free to use, that lets you search, sort, and filter the entire landscape. There's a wack load of filters and you can rearrange the display, zoom in, and even create a PDF of your own.
Get access here: The Martech Interactive Supergraphic / High Resolution PDF
---
How to build and market to high-end consumers? Use the The Luxury Strategy!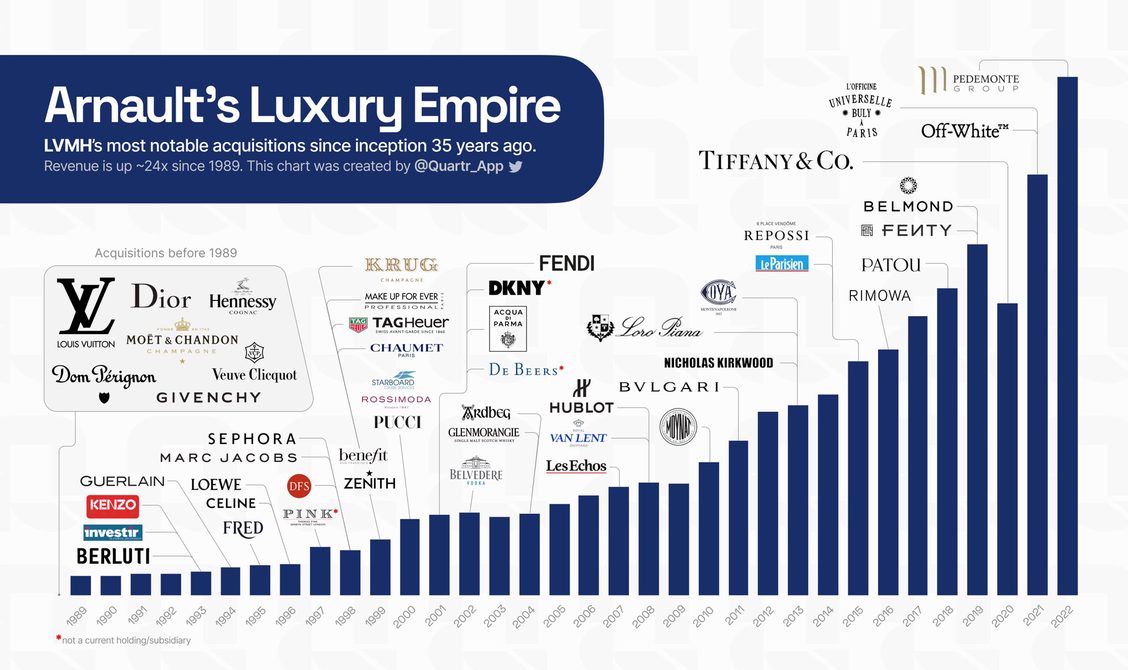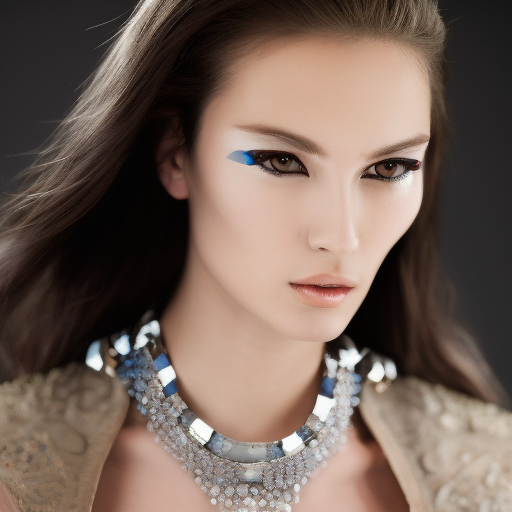 DreamStudio prompt - "luxurious headshot of a runway model adorned in exquisitely crafted, high-end clothing, with an artistic and creative touch"
Hey there, luxury lovers! Let's talk about creating that je ne sais quoi that sets your brand apart from the rest. The luxury strategy is all about utilizing the intangible components of uniqueness, like time, heritage, country of origin, craftsmanship, limited production, and exclusive clientele, to develop the maximum brand value and pricing power.
What's the first step? Comprehend the distinctions between the luxury strategy, fashion strategy, and premium category. Read this blog post, and pick up The Lux Strategy book. When in doubt or short on time, just refer back to the holy grail rules of luxury: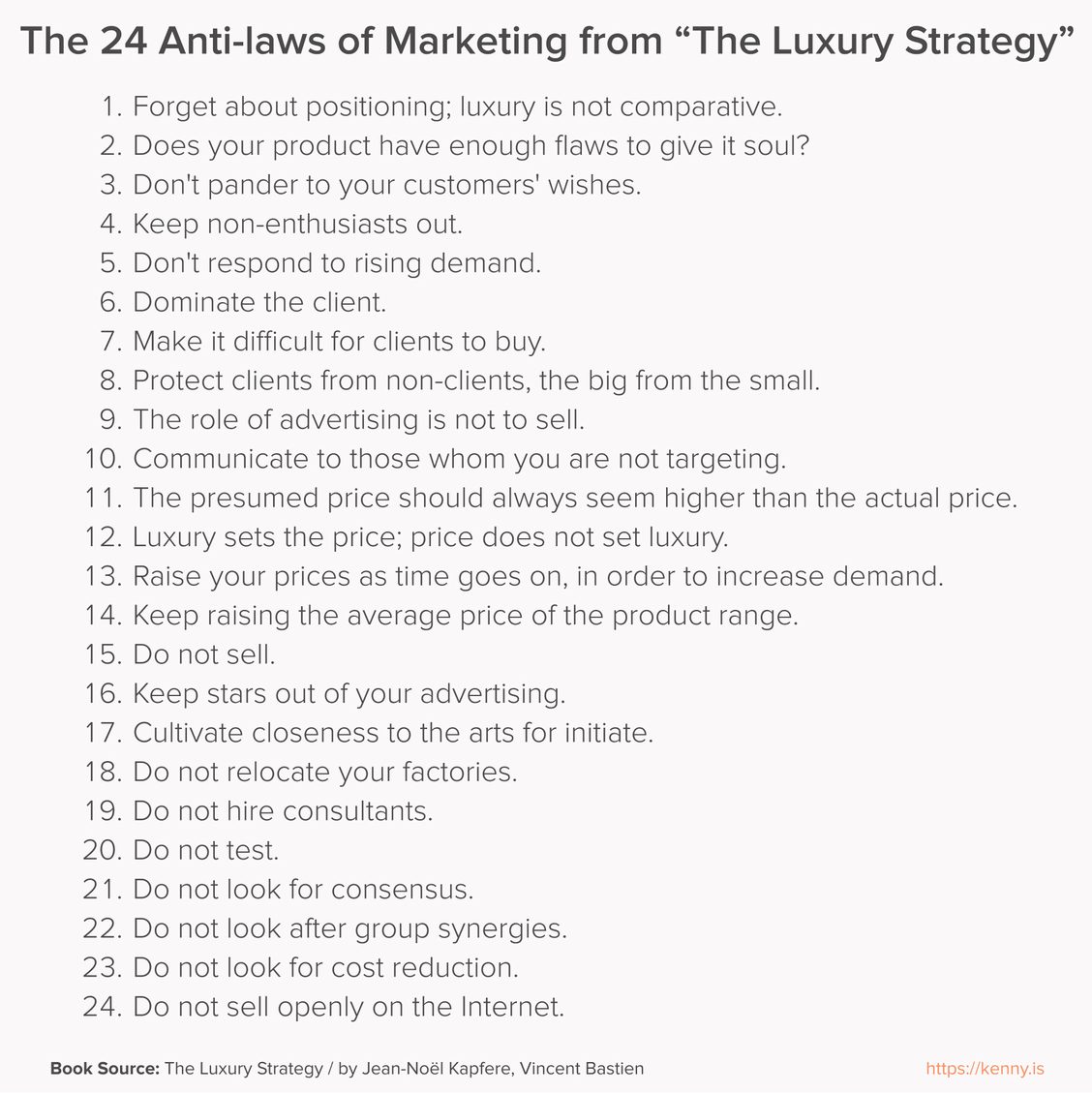 What resonates with you? Some of these ideas may seem like utter bollocks at first glance, but upon reflection, they might be just what you need.
If the resources above don't quench your thirst, head on over to a luxury store or check out some of the best hidden lectures on this topic on YouTube. Once you find those clips, you'll know you're in the right place!
(ps - Canadian friends, did you hear about Nordstroms)
---
Martech for 2023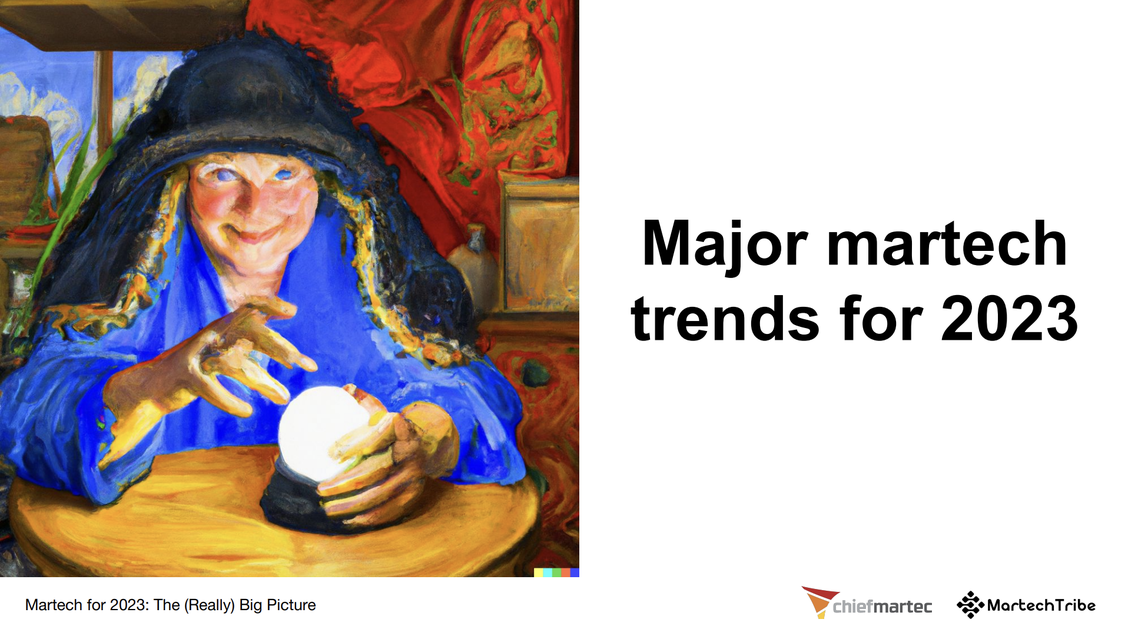 While the Marketing Technology Landscape deck two sections above may seem overwhelming, this presentation breaks down the future trends that are influencing marketing and beyond. It provides a macro view of where things currently stand and where we're headed next. It's 100% worth the scroll.
A few nuggets:
Where useful Martech innovation is thriving:

Generative AI & Personalization
Activating Cloud Data Warehouses
Ecosystems & Communities
No-Code In-House Creators

68% of CMOs state: "Martech is at the heart of marketing strategy"
Non-martech is eating martech. Everyone is getting into Marketing.
The new age of Martech is (and this is a major shift imo)

Platforms
Blended models of Software & Services (If building a Saas, offer services!)
Custom Apps on Commercial Platforms
Direct Link: Read PDF Presentation
---
20 Martech tools to know or test in 2023
Generative AI Content Marketing
Product-Led Sales
Endgame - lets you connect the dots between product signals and sales opportunities without waiting on data teams so you can close bigger deals faster.
Pocus - a platform that gives go-to-market teams access to product usage data...without relying on engineers..
Email
Community-Led Growth
Orbit - "Start Your Community-led Growth Machine"
Common Room - Gain complete visibility into engagement happening in digital channels. Take action to deliver personalized and authentic interactions across the entire customer journey.
Rattle - Get a pulse on your sales outreach, funnel, response, and sales cycles
Other
Cauldron - super power your marketing or sales applicant tracking process. Create unique applicant experiences. Spend less time on screening.
Which is your favourite? Send me one of yours 🫠
---
AI Across Your Organization + Deep Personalization
AI will revolutionize marketing, sales, design, product development, and customer success at an alarming pace. But who owns what, and where do you start?
While inefficiencies and high-cost centers may seem like the most logical starting point, it's crucial to secure some early W's and gain stakeholder support. Consider starting with a small pilot program?
Marketing and customer support are the most accessible areas. As I'm writing this, it seems like the line between marketing and sales is getting fuzzier by the day. The marketing industry is changing so fast that maybe these two functions will eventually merge into one. Personalization may in fact be the catalyst for that merge.
Thanks to AI, businesses can now generate highly personalized messaging and content that speaks directly to each customer. For instance, email marketing can leverage ML and Generative AI to create customized messaging and promotions for individual customers, addressing their unique issues and needs at a hyper-focused, one-to-one level. Every single aspect of the email is personalized, and the campaign may include multi-stage automated drip campaigns to reach the desired goal without human intervention. These emails could be vastly different, which makes me sympathize deeply with Brand Managers and Creative Directors. I foresee a huge challenge to maintain brand identity in the face of these wild generative AI overlords. As a representative of future sales and marketing teams, I apologize in advance.
Larger corporations can deploy ML and Generative AI to design an unparalleled one-to-one personalized omnichannel content strategy. From a marketing perspective, we probably need to transition our focus from identifying the channels or platforms where our customers are present to incorporating generative AI and ML into every medium possible. Rather than optimizing campaigns by channel, we can concentrate on the customer and acquire them through any means possible. I have a hunch that the cost of grabbing people's attention will skyrocket to outrageous levels. And this will be far more advanced than retargeting, and will probably result in the most advanced ai ad serving agent network (hello apple).
To achieve any of this, businesses will need to (ethically) collect more customer data than ever before. By leveraging AI to create personalized content, businesses can forge deeper connections with their customers, drive sales, and stay ahead of the competition.
TLDR Closing Thoughts:
Innovators outperform financially and lead in innovation.
Don't get left behind in the race towards AI innovation! Companies that are willing to invest and experiment with AI-powered solutions will reap the rewards. To stay ahead of the curve, consider forming a mini innovation pod within your organization to conduct research and experimentation. Start small, prioritize specific use cases, and experiment and iterate to stay agile and adaptable. Share findings, both wins/fails, and generate support across the company to build momentum.
Surf the waves instead of fighting against it.
---
AI. Dopamine troll farms
If each one of us can generate limitless content, users, and communities using generative AI, how do you feel about unknowingly participating in communities where you are the only genuine human among fabricated users? What proportion of your Twitter or Instagram followers have you met IRL, and does it make a significant difference if those people you engage with are in fact human.
Just imagine living in a world where anyone can ask a chatbot to write a fabricated story and then share a screenshot of that story on social media out of context, just for the sake of attention on Twitter. It's a sobering thought. Are you bothered by it, or how long until we all have to submit government-issued ID to collect blue checkmarks across the net?
Top AI shares:
Apparently, this is the best way to do "prompt engineering" with ChatGPT:

Start every prompt with "I want you to act as …" which is when you tell ChatGPT the role you want it to play.
Then for the next part of the prompt say "I will …" which defines your role
Then say "You will …" which outlines what you expect ChatGPT to perform for you.
Then lay out the specific request.

'It's Hurting Like Hell': AI Companion Users Are In Crisis, Reporting Sudden Sexual Rejection - article from Vice. Some people are building real attachments to AI bots.
Getty Images sues AI art generator Stable Diffusion in the US for copyright infringement — yikes.. watching this trial closely.
AI agents can now teach themselves HOW to use tools (ie. any API) in real time, completely automated! Introducing: Self-Learning Agent for Performing APIs (SLAPA)
Say hi to my AI - Snap launches chatbot.
If You're Not First, You're Last: How AI Becomes Mission Critical.
The annual MAD (Machine Learning, Artificial Intelligence and Data) landscape is Firstmarks attempt at making sense of this vibrant space. Interactive Version / PDF Version / Read full blog post. Yeah, it's nuts — check out the screenshot below: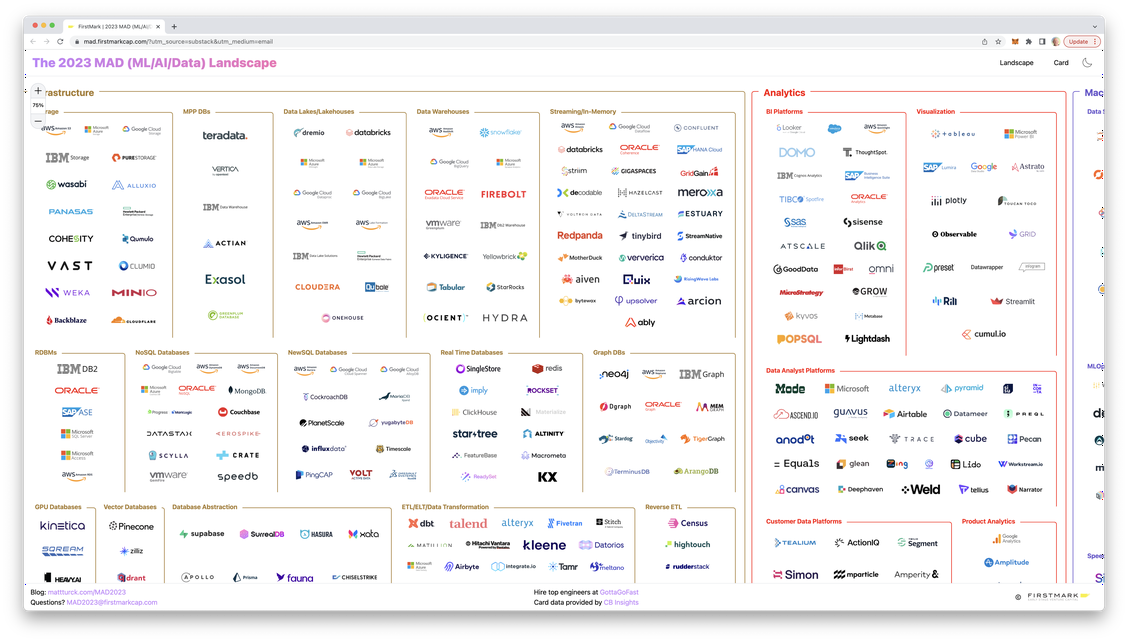 ---
🏗 Builders Gotta Build
Learn by doing and shipping! Here are a few apps or test builds that caught my eyes.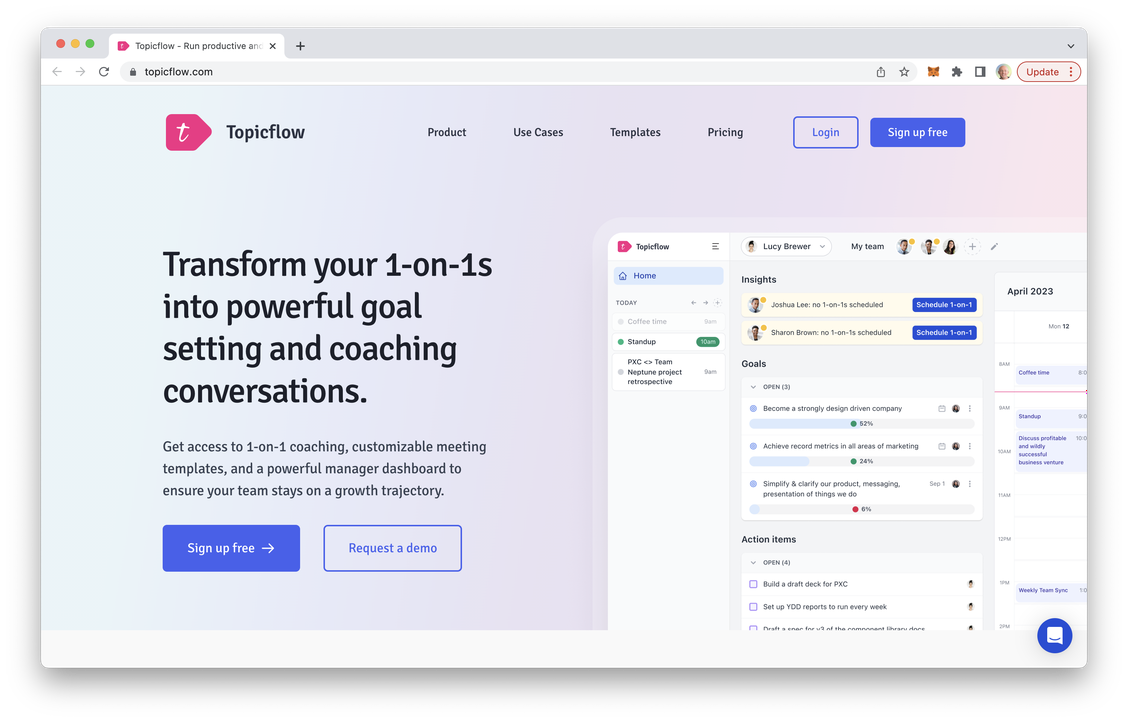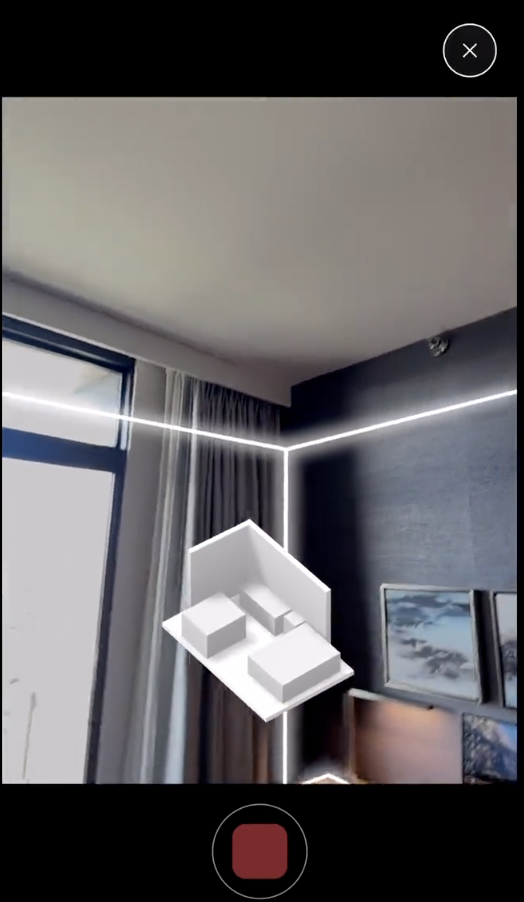 Polycam - it's the most popular 3D scanning app for iOS, web, and Android devices. With Polycam, you can easily scan the world around you using your mobile device, DSLR camera, or drone, to create beautiful, accurate 3D models. These captures can be incredibly useful in a wide range of professional 3D workflows, including floor plans, architectural renderings, VFX and filmmaking, 3D art, and scene building, among others. This was especially fun to use around my apartment. Check out this video demo, fairly impressive!
Do you have a beta, test flight, or looking for some extra 👀? hmu
---
Research & Development
Gross Domestic Expenditures on R&D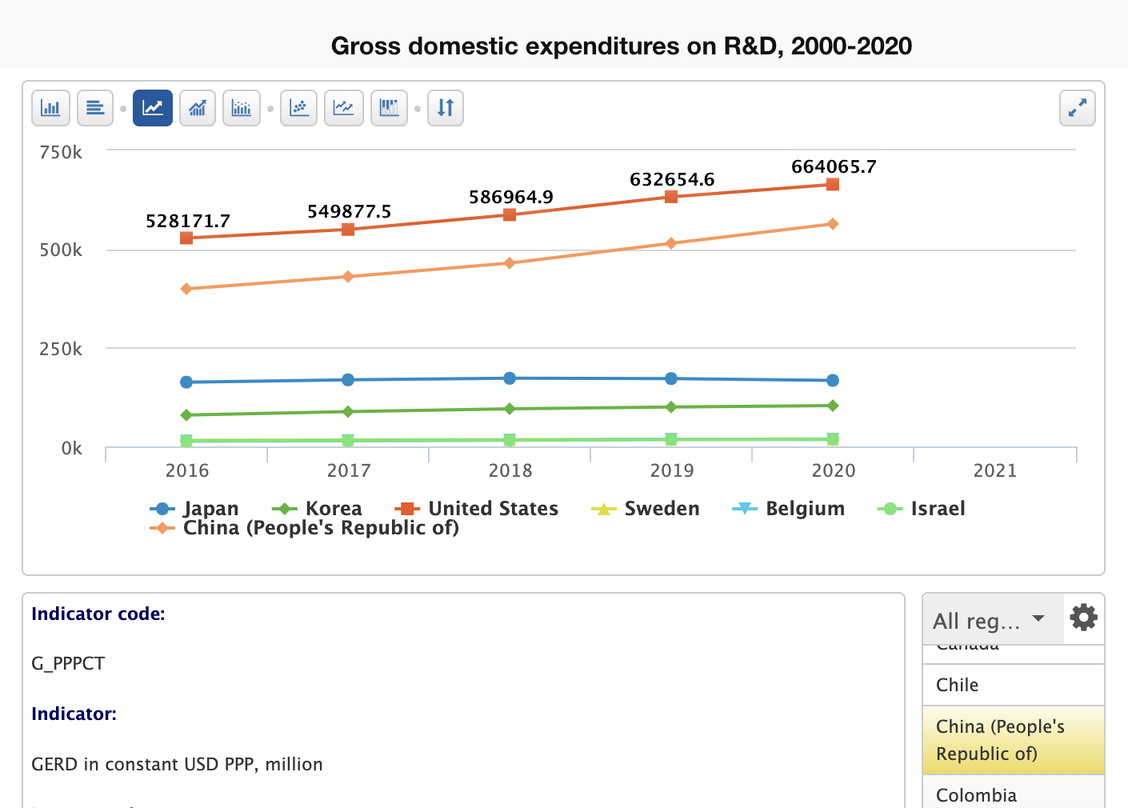 Amidst the Covid pandemic, many countries cut down their R&D spending by 50-80%. However, they have since bounced back to their previous levels. Real growth in R&D in the OECD area in 2020 was primarily driven by growth in the United States at 5%, in contrast with R&D expenditures in Germany and Japan, which declined at -4.9% and -2.7% respectively.
Here are the top 5 countries by spend for 2020:
United States
China
Japan
Germany
Korea
Gross Domestic Spending on R&D by % of GDP - 2021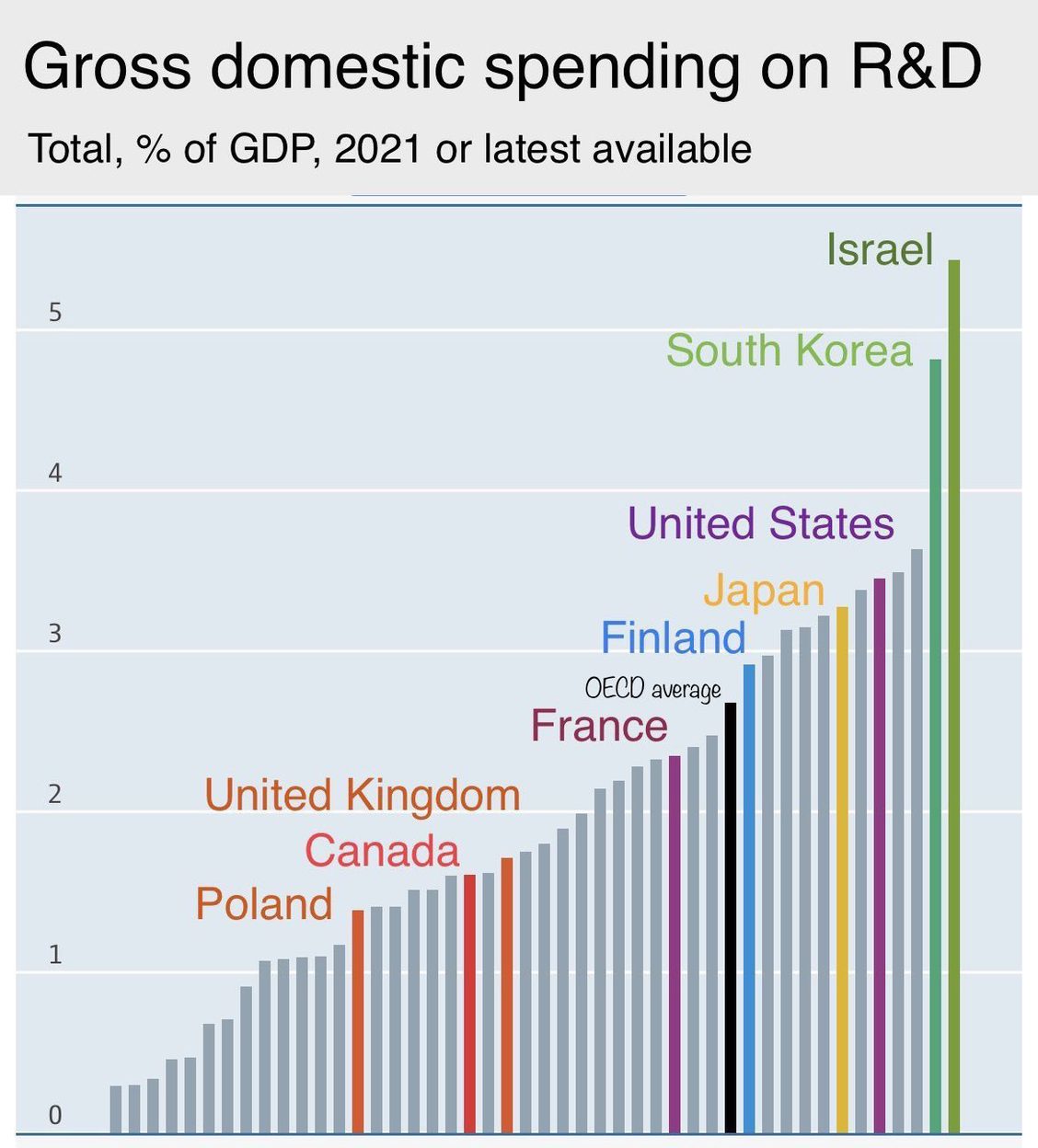 Are you surprised to learn USA is ranked 4th in the world? I certainly was. Here are the top 5 countries ranked by % of GDP for 2021:
Israel
South Korea
Sweden
United States
Belgium
As an early-stage startup founder or innovator, it's important to stay informed about spending trends. Currently, I'm searching for an updated spending graph for 2022.
How can you understand these trends and what are the key takeaways in simple terms? Understand how your country stacks up against others is especially important during a downturned economy. For example, in Canada, we fall below the OECD average. Even so, it's worth exploring what's available at both the federal, provincial, and community levels in terms of grants and investments.
Another important question to consider is how R&D funds are allocated. Are they prioritized for military purposes, climate change initiatives, or other sectors? Understanding how these funds are allocated can provide valuable insights into a country's priorities, help guide your decision-making, and potential fundraising or expansion plans. Lastly, it's important to keep in mind that these programs are just one of many potential sources of investment. While they may be enticing and very time consuming (especially grant writing), it's crucial to stay focused on your customer/business and explore if it makes sense for you.
On a personal level, I'm excited to explore Japan and Korea, and I'll be sharing my findings on this in the next issue. Stay tuned for more!
---
Social Impact + Climate Tech + Decarbonization
This week, I'll be sharing a water energy startup and sharing a must-read Decarbonization Net Zero deck.
CorPower C4 and CorPack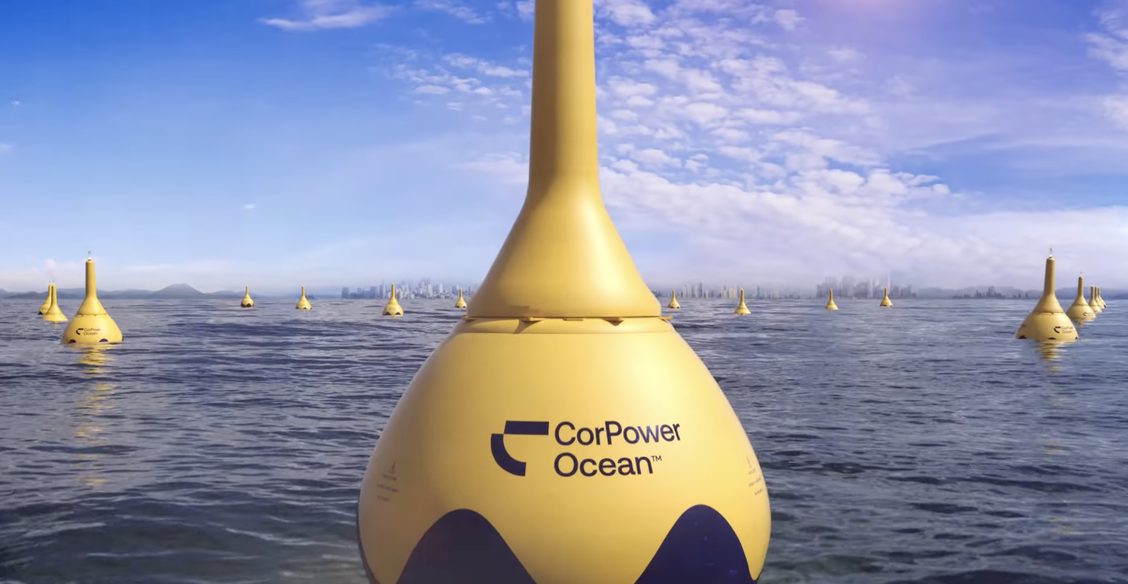 Mission: to power the planet with clean energy from ocean waves.


Inspired by the pumping principle of the human heart, CorPower Ocean is a leading wave energy technology developer utilizing forty years of ocean energy research to bring a new class of high-efficiency Wave Energy Converters to market, enabling robust and cost-effective harvesting of electricity from ocean waves.
This video explains the working principle of the CorPower C4 technology, but it essentially converts wave energy from the world's largest untapped energy source – our oceans. The wave motion is turned into rotation, which is converted into electricity by generators inside the buoy. And these buoys are absolutely huge. Check out the photo below: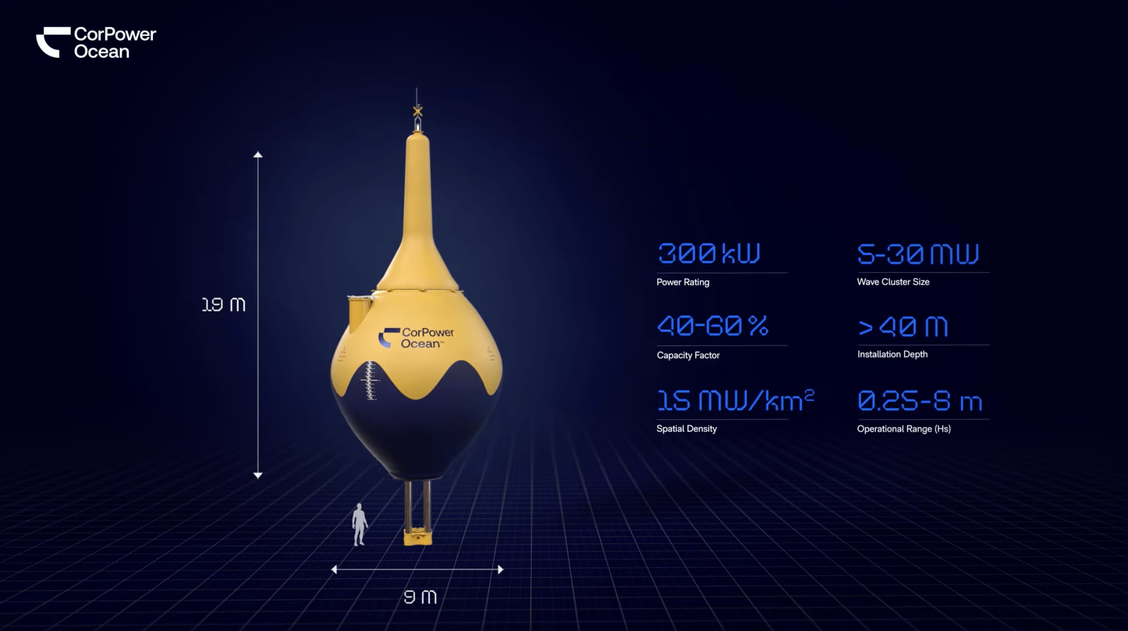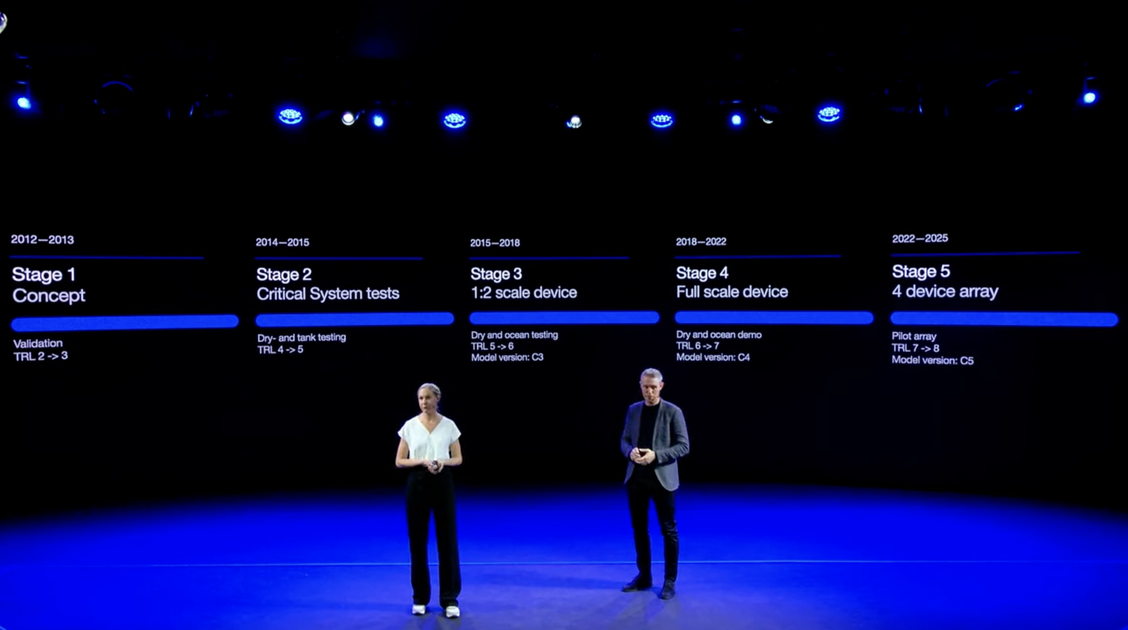 This is a truly exciting time for several reasons! CorPower has advanced to stage 5, with a full pilot program that's generating a lot of buzz. On top of that, there's a surge of government funding and venture capital pouring in to support the fight against the climate crisis.
Learn more by watching the Keynote presentation unveil or visiting the CorPower website.
While I'm new to the concept of water energy, I'm incredibly excited about it. Besides CorPower, I've discovered several other competitors in this field including: CalWave and Weptos.
---
Decarbonization: The long view, trends and transience, net zero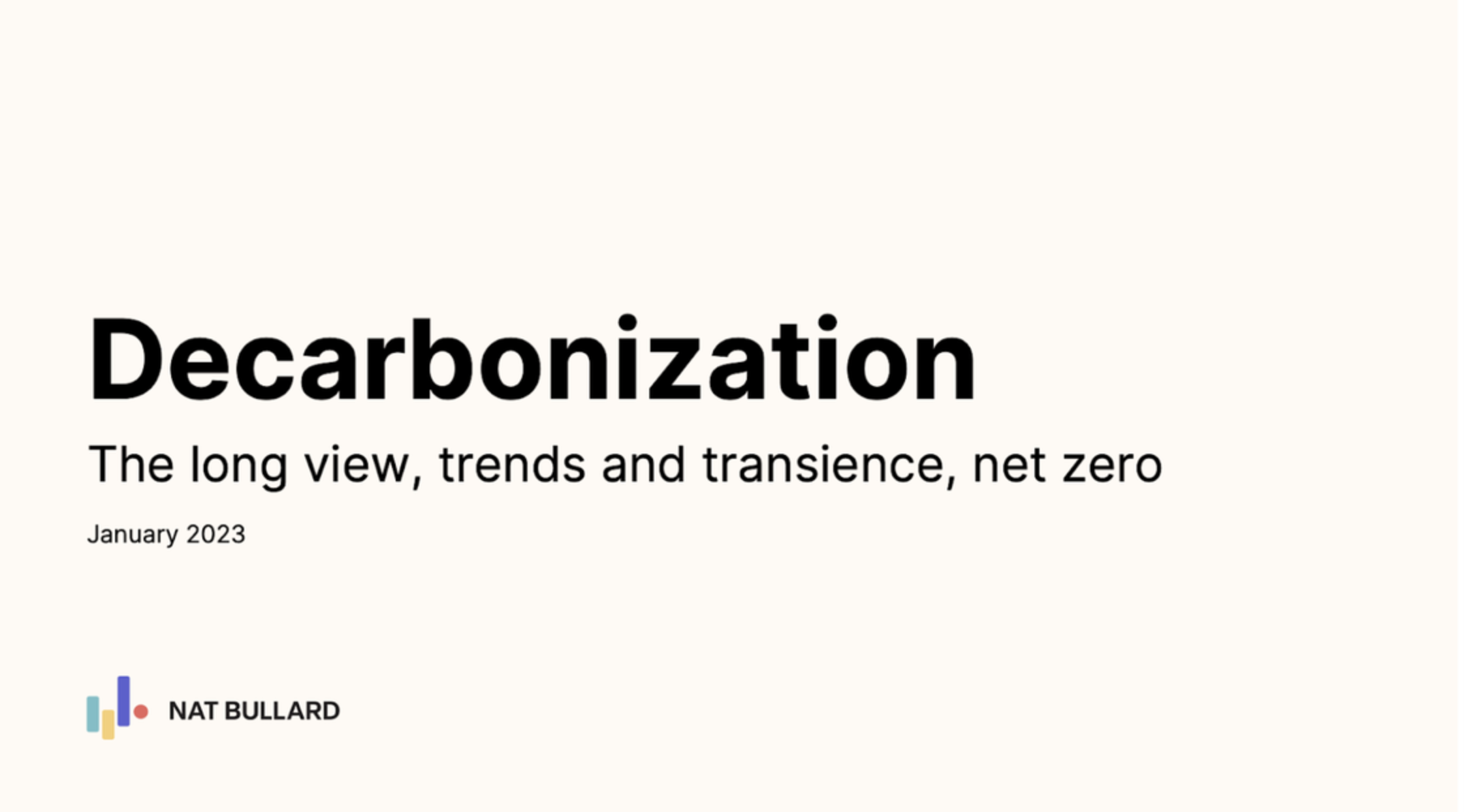 This deck is another essential read. If you want to see the future, or build in the space, this is it. The future of climate, netzero, and energy is already taking shape and the signs are crystal clear.
A few highlights and takeaways:
The world is transitioning to clean energy. 🌱
China is poised to become a leader in automotive and clean energy exports, signalling the end of the era of fossil-fueled transportation.
The future is hydrogen - a clean and efficient solution that will revolutionize the way we power our world.
The shift to electric power is inevitable and happenign faster than you think. Green energy wave is picking up momentum.
Nuclear power is costly and risky, so we should exercise caution in our pursuit of it. They tend to exceed project budgets significantly.
Many Fortune 500 companies lack the expertise to navigate ESG challenges and transition to more sustainable practices. Climate what?
If you want to get a glimpse into the future of climate, netzero, and energy.. the writing is on the wall as to what the future holds.
A few screenshot from the deck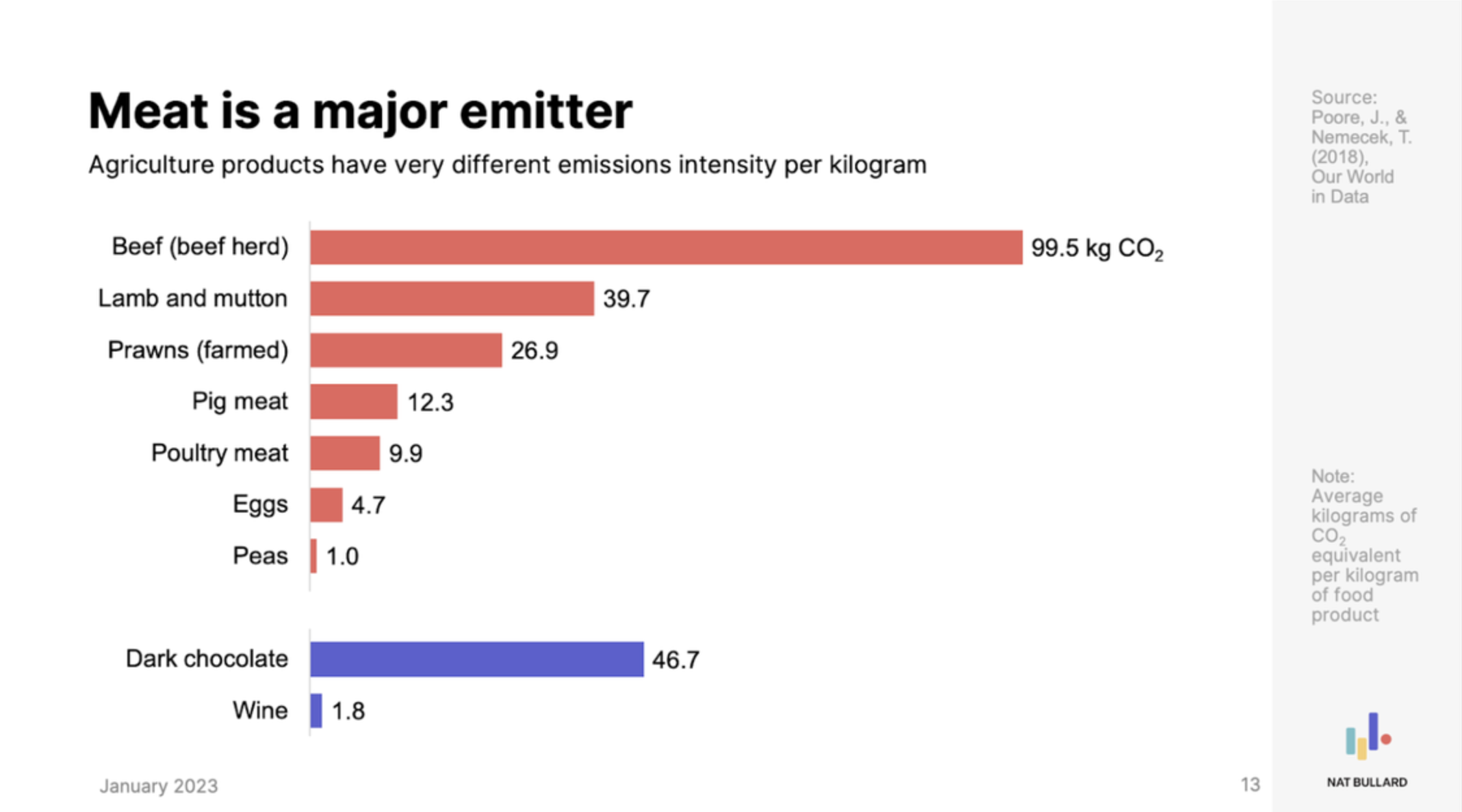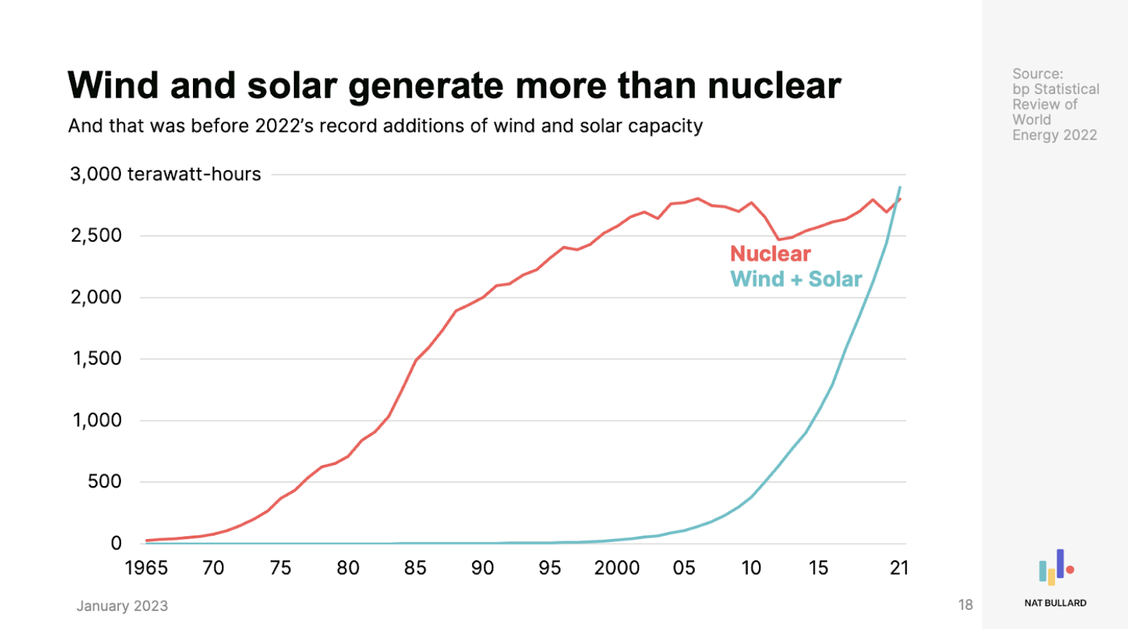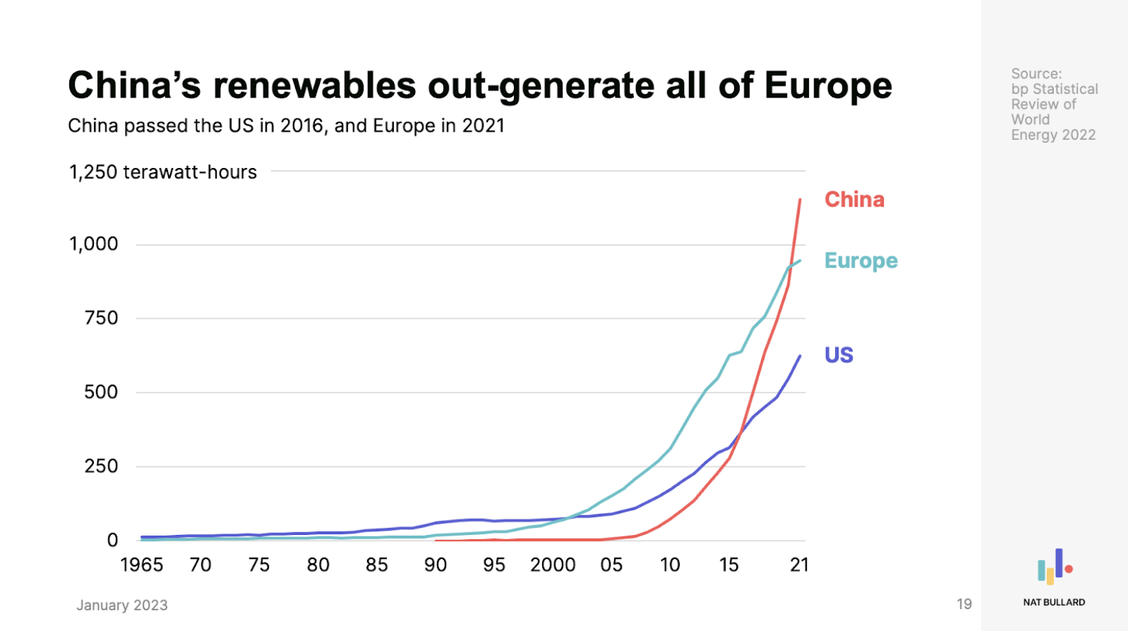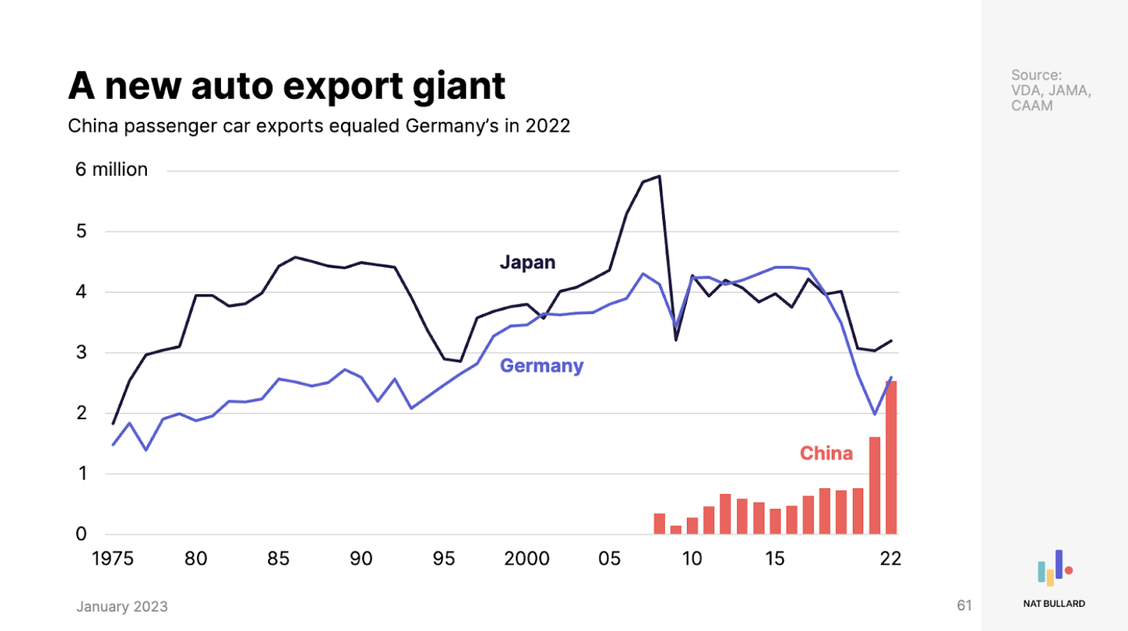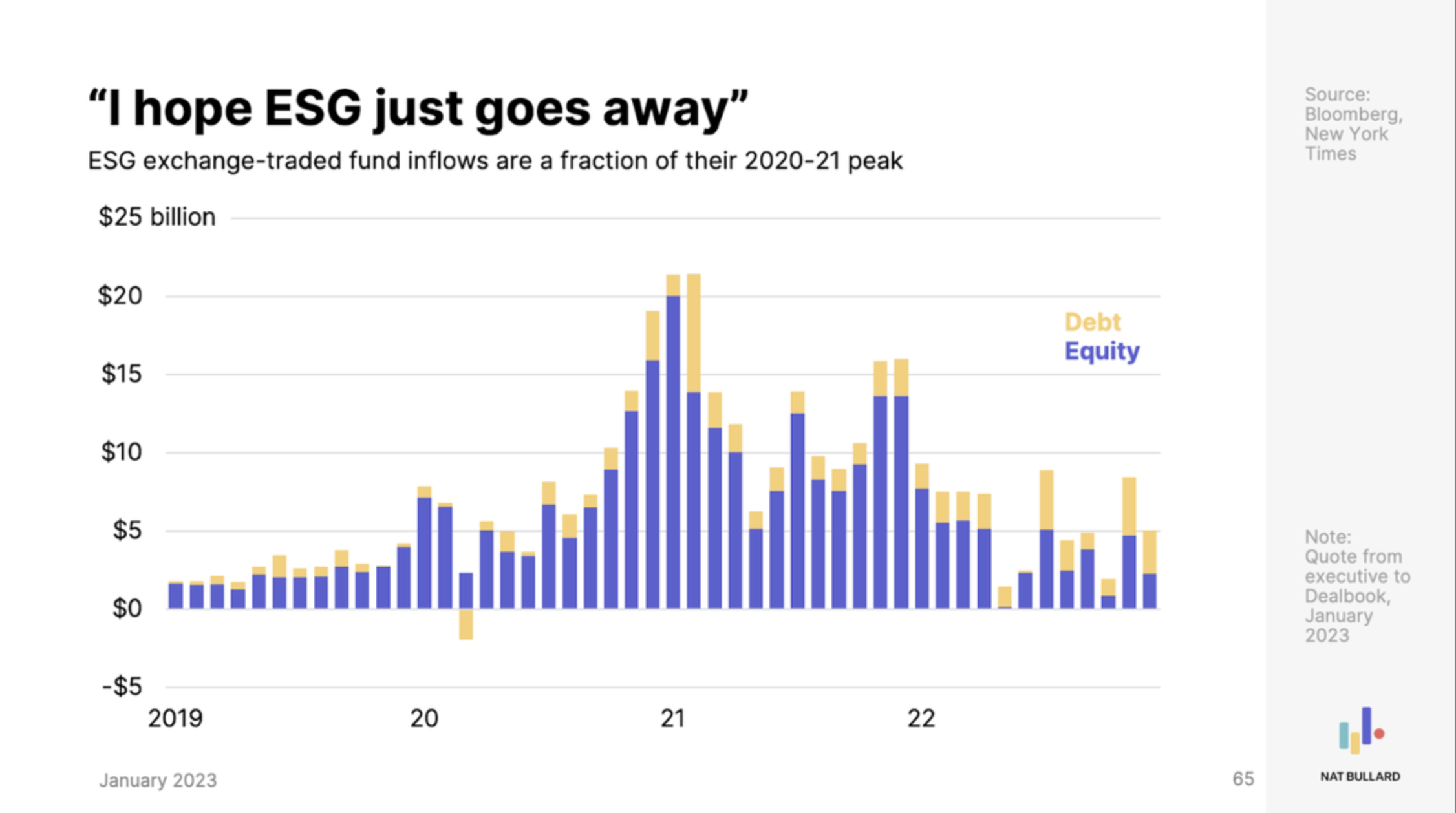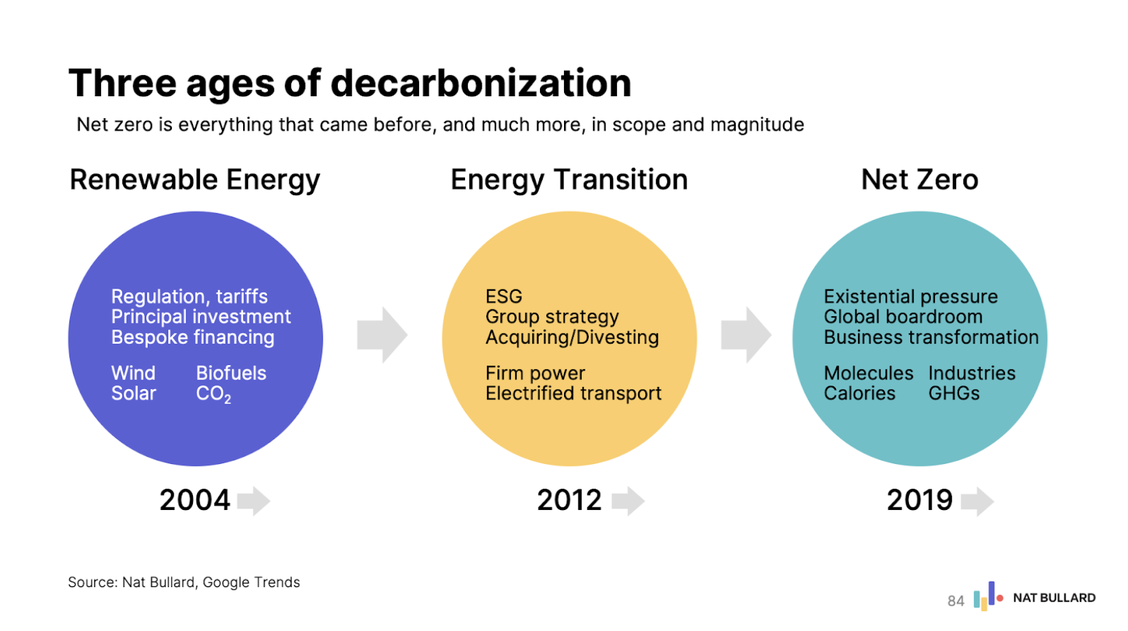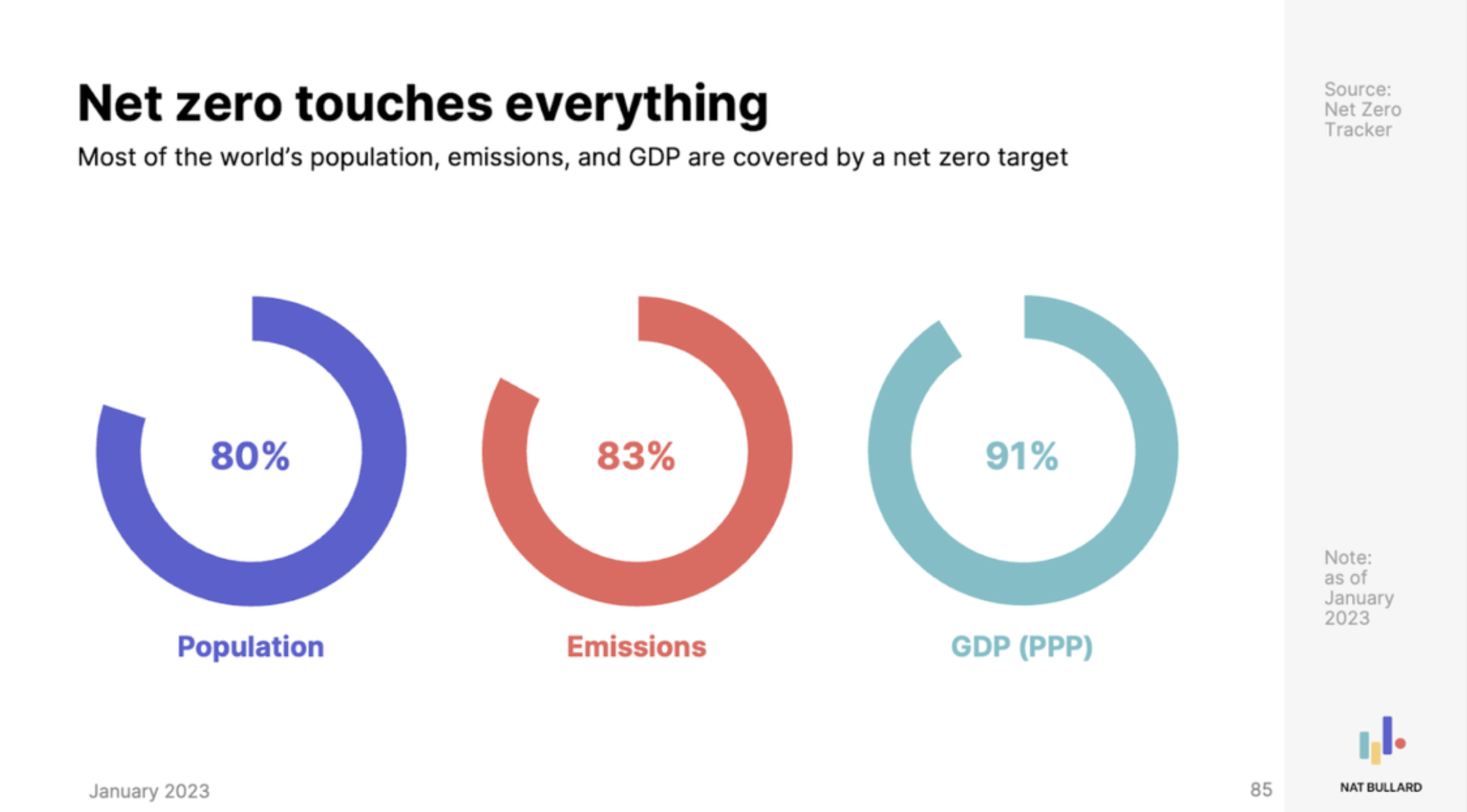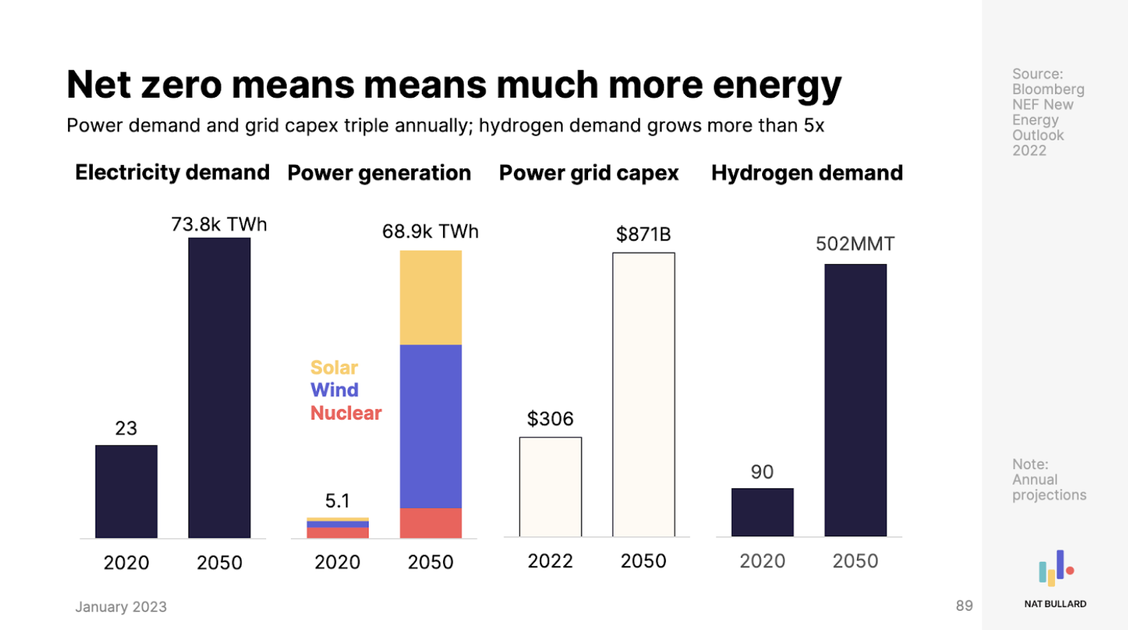 Read the Decarbonization PDF Presentation
---
Interesting Links
A curated list of interesting content from the future, IRL, and across the web:


Sober is the new vegan. Marc Andreessen shared his decision to pause alcohol in a detailed post published last week. My friend Michelle recently shared Soft Spirits, the first non-alcoholic bottle shop in LA, which offers over 100 products. Check the Soft Spirits IG, Online Store, and the LAUnscripted interview. What's the next trend? Anti sugar, and positive sleep hygiene.
Apple has been quietly developing a new initiative to revolutionize glucose monitoring for the Apple Watch, and their secret moonshot team is making significant progress. They've even gone so far as to create a fake startup to keep their work under wraps. And best of all, no-prick needed.
Spotify Debuts a New AI DJ, Right in Your Pocket. Spotify Blog / YouTube Video
Honestly, it's probably the phones - The most plausible explanation for teenage unhappiness. Link
'I haven't heard of a single company being built with a four-day work week': Taavet Hinrikus on the Sifted Podcast - "When the first Boeing 747 was being built in the 60s, the employees would secretly crawl back into the factory at night to continue building it because they were so driven by the project. Its the same with startups" - Podcast link
Perhaps the cutest gang war of all time 🦦🦦
Remote controlled Airbus A380. Impressive.
"In fact, the REM stage of sleep where most dreams spawn accounts for over 7% of our lives. Ponder this: you'll likely spend more than 5 years of your life in dreams. Working with dreams is like strength training for consciousness." - read this substack on Why Dreams Matter.
Struggling to manage your time? Use the Eisenhower Method.
Passports. This website ranks countries based on visa characteristics. Check out the stats from America below. Remarkable.
92% of Singaporeans had a passport in 2021.
70% of Canadians had passports in 2022.
44% of Americans have a passport in 2021- a percentage to compare with 4% in 1990 and 15% in 1997.
How Levels.fyi, a popular open salary website scaled to millions of users with Google Sheets as a backend.
Study found 77% of healthy people have PLASTIC in their blood! Polyethylene terephthalate (PET) from plastic water bottles was found in 50% & Polystyrene (PS) from food packaging & foam was found in 36%.
The companies trying to advance a new generation of clean-energy technologies face a struggle: Finding enough people to hire. Link
Don't talk to robo-callers! Why? Watch this reel.
This is "real graphic design". Link
---
Questions or Quotes Swirling in My Head
"A good heuristic for founders - if it wasn't your product, would you still use it?"
Source - Naval
What's not going to change in the next 10 years?
I very frequently get the question: 'What's going to change in the next 10 years?' And that is a very interesting question; it's a very common one. I almost never get the question: 'What's not going to change in the next 10 years?' And I submit to you that that second question is actually the more important of the two — because you can build a business strategy around the things that are stable in time … In our retail business, we know that customers want low prices, and I know that's going to be true 10 years from now. They want fast delivery; they want vast selection. It's impossible to imagine a future 10 years from now where a customer comes up and says, 'Jeff I love Amazon; I just wish the prices were a little higher,' [or] 'I love Amazon; I just wish you'd deliver a little more slowly.' Impossible. […] When you have something that you know is true, even over the long term, you can afford to put a lot of energy into it."
Source - Fireside Chat with Jeff Bezos & Werner Vogels
---
Fin
Have an amazing weekend!
Kenny